MYWBU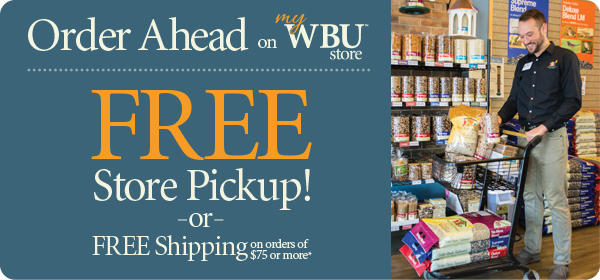 Nobody Likes an Empty Bird Feeder. Especially Your Birds!
Now, you can order your birds' favorite foods, bird feeders and more anytime and from anywhere with our online ordering option at: https://order.wbu.com/scarborough
When you order online, you'll get the same prices you'd get if shopping in our store- orders come directly to us and we take it from there and handle it from pulling product to shipping. All by the same local WBU staff you already know!

Whether you can't make into the store and need something delivered, or you just want the convenience of having your order ready for in-store pickup, we've got you covered.
Daily Savings Club points will accrue for online purchases and even count towards earning Bird Buck Coupons. Be sure to use the same email address we have on your account in the store so the system can locate your membership. If your email has changed, please let us know by emailing us at: [email protected].
-------------------------------------------------------
Order ahead for free in-store pickup or get free shipping on orders over $75 that ship within 150 miles of the store. Orders of less than $75 or that ship to further destinations will incur a shipping charge shown at the time of checkout. Daily Savings Club points will accrue for online purchases when you register at MyWBU Store with the same email address associated with your DSC membership.